Fire Pit Thermocoupler
Description
Replacement thermocoupler for fire pits
Sensor activates main control valve after pilot light is lit and allows to release the main gas.
9" long
M8 (metric) connection.
Fits models GS-F-PC, GS=F-PCSS, GSF-DGH, GSF-DGHSS, F-1108-FPT, F-1201-FPT, FS-1010-12-T, FS-1212-10-T, F-1350-FPT.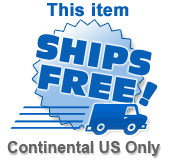 GSF-THERMO
Product Rating
Customer Reviews
There have been no reviews for this product.
Add your review here