Tall Quartz Glass Tube Heater- Hammered Bronze Finish
Description
91" Tall Radiant Heat Glass Tube Outdoor Patio Heater.

Access Door Design.
Single piece quartz glass tube
40,000 BTU's, Variable Control.
Wheels for Easy Mobility.
Thermocouple and Anti-tilt Safety Devices.
Regulator Included.
CSA Approved.
Uses a 20lb Propane Tank (Lasts 8-10hrs. on High)
Propane Tank Not Included.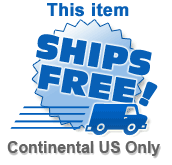 Product Rating
Customer Reviews
ALL SHOW _ NO GO> I just bought a $600 tiki torch.. They look great, there is very little heat generated. The 40K BTU rating is only a input rating not an output so don't be fooled by those numbers, like I was.
Zato_Nietzsche
I have had my heater ouyside for about 5 monyhs and the grill around the glass tube is already rusting. I called Az Heaters and they said they do not warranty against rust. Also the plate that the wheels are attached to is so flimsy that is you try to move the unit the bracket just bends and the wheels will not hold the heater up off the ground.
Jeff Elzemeyer
This type heater does not perform as marketed. Hiland videos of this product say that it throws heat 5-10 ft, when in fact it barely radiates 1 ft! When I called the manufacturer, they admitted that the glass tube emits heat less efficiently than the typical "mushroom top" type heater. Unfortunately, the glass is keeping most of the heat contained. Unless you want to spend money for just the appearance of a tube of flame, do not waste your money on this product!
Pamela
Works much better than my old mushroom heater, since you don't have to stand right under it just to get your hair burned off.
David
Bought for a weekend cocktail party on our patio pooldeck for 40 which occurred Saturday 5/12/12. Got them to replace our 2 large mushroom units because the AZ products do have "show quality" and promised great BTU rating. Our older mushroom units work GREAT but at 4 years old were showing their age so we replace thinking good btu heat and interesting "show value". Fired AZ new units up as it was a cool So Cal evening for May and had chilly guests at 9pm. The heat was on high, great show and nobody felt anything unless they were within a foot of the unit. Shut them down, had my two strong nephews pull them out and replace them with the old mushroom units and 5 minutes later everyone on the patio and pooldeck was toasty warm all night, although without the "light show" of the AZ product. I made a bad decision by buying these. I wish I'd have read earlier comments before buying because it seems there is a rust problem also which I haven't had with the mushroom tall units. I bought them the day before the party from a membership store who takes them back, no questions asked, ever (Costco). I'm bringing them back tomorrow "assembled" which should be interesting as it took us 1 1/2 hours to assemble each one and each are 91" tall, not the 4 foot boxes they were purchased in. Buy the time honored standard heaters, unless you want show and no heat. As a Costco member I'm also sending a product review/complaint which I understand they take seriously. I recommend a "pass" on this product.
Michael
Add your review here